Enter the Cat (no, not Peter Criss...)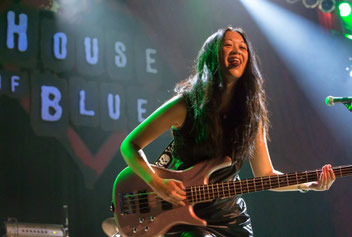 Deepest apologies, dear reader, for the long delay in concluding the tale of our intrepid heroes, but with our return to the stage in 2018, the time is right...
After several successful (and loud) outings around Chicago, it was time to kick Ginger to the next level. As a list of new songs was being drawn up, it became obvious that the missing element to truly recreate the overproduced rock of the 80's was a keyboard player. But it couldn't just be any keyboard player, oh no...
Though Justin had admirably covered the keys on tunes where it was absolutely required (Kiss Me Deadly, What About Love), the new songs required a dedicated maestro. And, most importantly, a key-tar. Really, when you think about it, there was only one choice. Because apparently nothing is ever coincidence, former lead singer Gabe Benitez again plays a role in our story. Desiring a return to original songwriting, Gabe returned to Chicago and reformed Delilah, a hard rock band featuring bassist Cat Lai. Entering a Battle of the Bands competition at Elbo Room, the band was successful beyond their expectations, progressing from round to round, until they reached a level where the next gig fell on a date Gabe couldn't make! So he called upon his old bandmate Gino to fill in. With pointy guitar in tow, Gino faithfully recreated Gabe's guitar parts, and succeeded in getting Delilah to the next level (and they eventually won the competition, capped off with a performance at House of Blues!).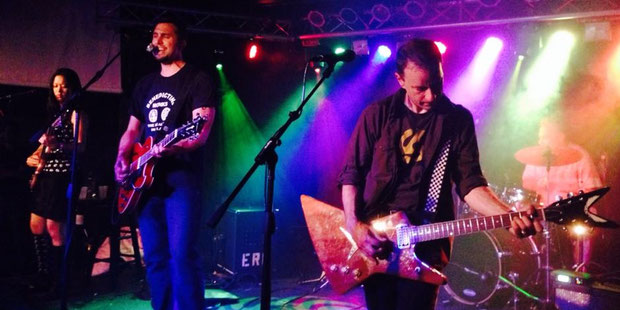 But most importantly, Gino and Cat were able to reconnect. Though not strangers, having worked together during Cat's time at Shure, playing together in Delilah reminded Gino that the classically-trained pianist Cat had a true rock and roll heart. Surely she'd be interested in trading her bass for a key-tar, in order to take the stage with the mighty Ginger? As if there was ever any doubt...from the first rehearsal with Cat, jamming (and providing stellar backing vocals) on Journey's "Separate Ways," this was obviously meant to be. The ridiculousness was now complete. 
Key-tar in tow, Cat's official debut with Ginger was at Wire in January of 2017. And now, in January of 2018, the complete ensemble returns, ready to melt more faces. And in a bit of poetic justice, Ginger will be joined by Cat's '80's hair metal tribute, Thundershark, of which Gino is now a member. The circle of absurdity remains unbroken...