Though Ginger first stormed the aural senses of the rock world in 2013, the lineage of this band stretches back much, much further. Collectively, the six members of Ginger rack up over 100 years of rocking on the Chicago music scene. The seeds of what would eventually evolve into Ginger were sown in 2004, when Gino and Cris (fresh off his stint with punk legends, Dead Steelmill) first teamed-up to form ahead-of-its time grunge cover band, Hack. Hack also featured a hyperactive Paraguayan named Gabe Benitez on drums, who will figure into our story later. This group only made it about a year, grunge having not been dead long enough for anyone to miss it enough to bother with a cover band. And, let's be honest, that music is just kind of sad. Great music - not much fun for a night out at the bar.
Meanwhile, Matt and Justin, friends and sometimes bandmates since high school, had been tearing up the local music scene with The Elvi (shades of matching outfits to come...). When that ended, Matt continued to play with many other local, original groups, included Liftpoint, the Assembly, and Vacation Bible School, while Justin went on to become an in-demand bassist and tuba player. Yes...you read that right. Sousaphone, too.
Gino tried his hand at blues rock with Nine Miles West, but when that went south, the time was right to get back to something a little...well...louder. in 2009, recruiting Cris and Matt, they set about at their first attempt at a female-led cover band. Once again, that adventure lasted about a year. Though showing much initial promise, the reality failed to live up the dream. However, this group's last gig attained legendary status, featuring Justin on second guitar. Unfortunately, it also featured Foster's tall boys...several, in fact.
Within several months of that fateful night, Justin had joined Cris, Matt, and Gino at their day job at Shure. Given the ample performance opportunities that were presented at this particular workplace, it only seemed natural for these four to pull something together. Something that would sate their appetite for both rock, punk, and ridiculousness. Having several Me First and the Gimme Gimmes tunes under their belt from the previous ensemble (covers of covers...how "meta."), that seemed like the obvious choice. But who could deliver vocals of such sincerity and depth (no, not who you're thinking...we're not there yet!). Re-enter Hack drummer Gabe Benitez. 
Though primarily a guitarist, the sometimes drummer has a ridiculous amount of energy and the perfect "devil-may-care" attitude to front this next evolution of the band. Debuting during a lunchtime concert during the summer of 2010, calling themselves "Yacht Rock," they raced through a short set punctuated by hits from Hall and Oates, Billy Joel, and other giants of smooth '70s rock. Being the artistes that they are, there was no wish to repeat themselves, so the following summer they changed their name to Cowpokes and tackled top country tracks by the likes of Dolly Parton and the Dixie Chicks. 
---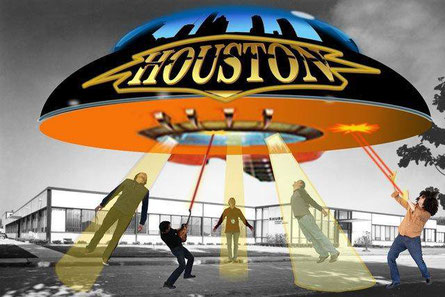 For their third, and final, show the boys turned their attention to the catalog of R&B divas, even going so far as to dub themselves, "Houston." Matt's suggestion that they shoot a promo photo recreating a legendary Boston album cover coupled with an opening salvo of that band's "Foreplay" brought the schtick to a whole new level. Quitting while on top, it would be the last performance for the Benitez-fronted version of the band, but not the last time a Me First cover would be heard cranking out from the guitars of our heroes..